1. How could anyone in their right mind die for a belief that supposedly occurred in their lifetime, but never did (the first extensive Christian persecution was in the early 60's)? No one would die for a lie - which, if Christianity were, people would have known due to the fact that there were so many eye witnesses around.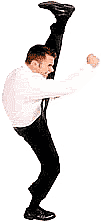 2. How could Christianity be false, since its basics (Jesus' existence, miracles, death on the cross) were testified to by reliable pagan historians, Jews and Christians? ....
3. Do you think that even though there are many pagan religions with beliefs that have apparently been incorporated into Christianity, that regardless, what is recorded in the New Testament actually did happen this time around?
4. Is Satan, as the master deceiver, really stupid enough not to have thought of developing pagan religions that copy the eventual true one, so as to mislead people into believing Christianity is false? People only try to counterfeit real money, not Monopoly money.
5. Why do miracles still occur today as a testament to the validity of Jesus' life and teachings? ....
Sincerely Yours
Joel