Scholarship by myth makers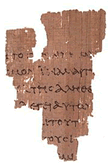 P52 Verso
There's another verse'o John on the recto.
In 1935 a New Testament scholar guy named Colin Roberts came out with an article, An Unpublished Fragment of the Fourth Gospel in the John Rylands Library, about P52,

an itsy scrap of ancient paperus on which he'd found fragments of our Gospel of John. Ho hum. Recognizing gospel scrap spit-billion three puts you at the back of a long line. The big deal about Professor Roberts' scrap is that he gave it a date—125 AD (± 25 years) —that was generations closer to Jesus than any other known New Testament fragment (about 200 AD, if you're taking notes).
That's how P52 entered New Testament scholarship. To this day Colin Roberts' P52 date, 125 AD (± 25 years), is given out as the received wisdom of settled science in NT Studies 101 syllabuseses, graduate thesisuseses, academic articles, Sunday sermons, and Is The Resurrection of Jesus Real? debates.
P52 comes up a lot because its early date proves Jesus is real. Honest. The Gospel of John dates from no later than 125 AD, maybe as early as 100 AD. P52 proves that. What's more P52 comes from Egypt and Jesus from Galilee, so allowing time for social diffusion probably John must almost certainly have been written decades earlier, very close to the time of Jesus himself, meaning the gospel was probably almost certainly written by a disciple of Jesus, meaning it is first hand, or almost certainly no later than second hand, proving the stuff in the gospel is probably mostly true, meaning Jesus is real.
P52—the date of P52—is a big deal.

"Scholars of the New Testament have used and abused papyrological evidence"
On account of the date of P52 is way important, you'd figure the science behind the 125 AD date would be heavily investigated by New Testament scholars, right? You'd be wrong.
Colin Roberts came up with his P52 date with handwriting analysis, "...this claim rests solely upon considerations of paleography," (page 12). Roberts came up with his number by comparing the letters, α-β-γ-etc., on P52 with the letters on five, count 'em five, samples of datable early second century handwriting, and one sample from 153 AD. That's it. His report mentions no handwriting samples from the late 2d century. His report mentions no handwriting samples from the 3d century. On this basis, we know Jesus is real.
1

In spite of what people tell you scholar-Professor Roberts said in his 1935 article, the 1935 article does not give the date of P52 as 125. He gives the date as in "the first half of the second century." (see page 16). He does not say that AD 125 is more likely than AD 150. Not that this detail matters because...


2

Professor Roberts does not describe his scientific method. Because he didn't have one. Again, according to his paper what he did was he felt that in a general way P52 looked like a couple undated maybe [!!] early second century documents, and in a general way like four documents datable to 94, 98, 117, and 127 AD. Also, some of the A's looked similar. And in a general way P52, he thought, looked not like one [!] letter from 153 AD. That's it.

In fact Prof Roberts himself wasn't convinced, but he showed a photo of P52 to some chums, and they convinced him to be firm. If these fellows had actual repeatable, testable science guiding their analysis, Prof. Roberts' doesn't mention that either.

P52 dates to the first half of the 2d century AD because Colin Roberts thought it does. Well, actually he didn't, but some friends did and he went along. That is the basis of seven decades of P52 scholarship. I am not making this up.


3

On the basis of one nice man's invention, unsupported by any scientific method, without any description of what criteria were relied on, or on what basis those unnamed criteria were imagined to be relevant, without any photo or reproduction of the manuscripts P52 was compared with, the "early 2d century" dating of P52 has been accepted by NT scholars for seventy years. Do some scholars argue? Some. But many—most—don't. And nobody checked.

Nobody checked.

For seventy years scholars opined without recourse to the published manuscript evidence--because the evidence wasn't published. NT scholars, fancy ones with big names, used Roberts' result—built theories and theologies on the result—without caring to check whether it was correct. In-fucking-credible.

4

In 2005 a Yale grad student, Brent Nongbri, wrote. The Use and Abuse of P52: Papyrological Pitfalls in the Dating of the Fourth Gospel. Harvard Theological Review 98:23-52.

Nongbri, get this, published photos of Colin Roberts' comparison texts. Seventy years after the fact. And he included photos of other comparison tests he'd collected himself. Including, get this, texts from the relevant early 3d century.

Nonbri sums up: "...we as critical readers of the New Testament often use John Rylands Greek Papyrus 3.457, also known as P52, in inappropriate ways, and we should stop doing so." [Abstract]

Teacher, teacher, why do they call it "P52"?
Because if they called it, "The Supreme Court of Zimbabwe" people would get confused. Now shut up and listen.