In all of ancient literature, there is no event-by-event analogue of Jesus. Here's why ...
POCM's challenge
Where did ancient Gods come from? Ancient people, ancient Pagans, started with a more or less fixed set of ideas about what properties a God had, and they made up Gods that included those properties. Like Glycon, Apollonius, Dionysus and the rest, Jesus is full of ancient-God properties.
What you'll discover at POCM is, Christianity did not borrow myths, it borrowed ideas about Gods. The ancient people who first worshiped Jesus knew what a God was, and they believed Jesus was one. On account of which, the stories they told about Him are full of ancient God stylings.
Here's POCM's challenge. You've got to let yourself see that Jesus' meaning—a God—came first, His "facts"—his God-property facts — came later, made up to fit the ancient meaning of "God."
Go loose, close your eyes, breath deep. Got it yet? It's not easy at first.
Jesus was a new God
Jesus was a new God. You knew that. But stop for a minute, go slow. Think about that again. See, you can't have a new God until you first know what God means. And if your new God is a God, well, then He's really not new, he's just a new version of an old idea.
The first people who believed Jesus was a God already knew what properties Gods had. And when they came to tell about Jesus' holy life, they naturally told it the way they saw it, with Jesus as a God, with the standard God properties. Jesus came from Heaven. Check. To Earth Check. Via a magical God-mortal birth. Check. In fulfillment of prophesy. Check. Heralded by magic God-sent dreams. Check. He did miracles. Check. He brought salvation. Check.
Jesus is a new version of an old idea. Jesus was a new Pagan God.
Jesus' apologist's impulse here is to see the "new God" business as a language trick. Our precious Jesus is a God of an entirely different sort than their gods were gods. Same word, different meanings. Who's right? There's a way to tell, because we know exactly what properties Pagans gave to their made up Pagan Gods. Here's how...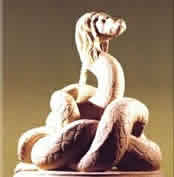 Glycon
In the 100s AD a flim-flam Pagan preacher named Alexander invented a new God, Glycon, and set up a prophetic oracle to Him. Alexander was a con man who made up a new God specifically to fit the religious beliefs of the faithful—so he could win their trust and take their money. Glycon gives us a picture of what a God looked like when He was specifically made up to fit the religious ideas of ancient culture.
You'll discover Glycon was not a xeroxed event by event copy of any Pagan God. Alexander invented new myths for his new God, but he kept the old God properties. Prophesies made and fulfilled. Divine birth. God-sent dreams. Heaven. Hell. Miracles: healing the sick, raising the dead. Back then, when people invented new Gods, these are the properties they gave them.
When we look at our holy Jesus, we see the same properties Alexander gave Glycon. Prophesies made and fulfilled. Divine birth. God-sent dreams. Heaven. Hell. Miracles. Healing the sick, raising the dead. We see the goodies that ancients everywhere associated with Gods. Our precious Jesus is trimmed out with exactly the same God properties as the other Pagan Gods.
Dionysus'

Father in Heaven

was the great God Zeus. His mother was a

mortal woman

.
Do you know why?
Like the ancient snake-God Glycon, the ancient God Jesus is a product of His time and place.
Seeing what Pagan Gods looked like
As you go through the Gods here under the Pagan Christs tab, remember POCM's challenge. Try not to see each God as a set of myth-events. Try to see the God-qualities that shaped the events. The events change from God to God. The God-qualities stay more or less the same.

If you can do that, you'll understand that Jesus isn't a myth-by-myth copy of any other ancient God because no ancient God is a myth-by-myth copy of any other ancient God. Ancient Gods were all the same, only different. Doh.