is about a question you probably never thought about: Did Christianity borrow ideas from other religions?
If you're like me, you grew up thinking it didn't. We were taught Christianity began with a big bang, with Jesus. Jesus changed the world with ideas about God that were new and revolutionary.
It ain't so. Our Christianity doesn't come from Jesus and a big bang. It comes from the accumulation of legends and theologies by people who believed in Jesus. The origin of those ideas wasn't Jesus. The origin was the myths, legends, philosophies, prejudices, literature, superstitions, and primitive cosmology of ancient western culture. Christianity is a product of its time and place.
That's what POCM is about.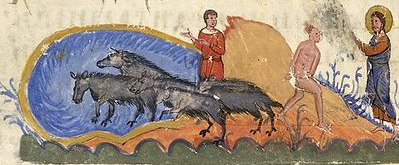 Notice what POCM is not about. An example: our gospels tell a story about the time Jesus met a crazy man, who was inhabited by devils, who spoke to Jesus, who cast those old devils out, into a herd of pigs, who ran down a hill, into the Sea of Galilee, and drowned. POCM is not about the details of this story. It's not about whether insanity can appear to be cured because it's really just psychosomatic. It's not about whether there were pigs in Jewish Galilee, or whether there really is a hill by the Sea of Galilee that pigs could run down. POCM is not a naive hunt for the historical "facts" of our Jesus stories.
What POCM is about is the ideas inside the Jesus and Demons story. Hang on a second; according to the bible, the first Christians believed in demons. Demons. They believed in demons. They actually believed there are actual beings that live inside people and cause illness. That think, and hear, and talk, and move around, and do stuff. The first Christians had the idea, the concept of demons. The first Christians thought demons recognized Jesus, and talked to Him, and He talked to them, and overcame their supernatural power with His own. How can that be? Where can these ideas have come from? POCM is about where Christianity got the ideas that shape our first stories about Jesus.
Jesus was the Son of God who suffered, died, and came back to life. But He wasn't the first Son of God who suffered, died, and came back to life. He brought salvation; but He wasn't the first God to do that either. His dad was a God and his mom was a mortal woman; He wasn't the first God there either. It's the same with miracles, disciples, ascending to heaven—the list goes on and on. Before the first Christians had these ideas about Jesus, Pagans had the same ideas about their Gods. That's what POCM is about.