Jewish ideas about the immortal soul
Here's Josephus, a Jew who went Roman, describing the beliefs of his people.
Like the Pagans, the Pharisees believe in souls.
Like the Pagans, the Pharisees believe souls are immortal.
Like the Pagans, the Pharisees believe souls of good people are rewarded after death
.Like the Pagans, the Pharisees believe souls of bad people are punished after death—in the bad place under the earth.
These, says Josephus, were the most common Jewish beliefs.
18.1.2. The Jews had for a great while had three sects of philosophy peculiar to themselves; the sect of the Essens, and the sect of the Sadducees, and the third sort of opinions was that of those called Pharisees; of which sects, although I have already spoken in the second book of the Jewish War, yet will I a little touch upon them now.
18.1.3. Now, for the Pharisees, they live meanly, and despise delicacies in diet; and they follow the conduct of reason; and what that prescribes to them as good for them they do; and they think they ought earnestly to strive to observe reason's dictates for practice...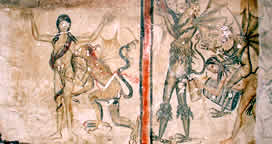 .They also believe that souls have an immortal rigor in them, and that under the earth there will be rewards or punishments, according as they have lived virtuously or viciously in this life; and the latter are to be detained in an everlasting prison, but that the former shall have power to revive and live again; on account of which doctrines they are able greatly to persuade the body of the people....
Like the Pagans, the Sadducee Jews believed in souls, but not that the soul is immortal.
18.1.4. But the doctrine of the Sadducees is this: That souls die with the bodies; nor do they regard the observation of any thing besides what the law enjoins them....
Like the Pagans and the Pharisees, the Essene Jews belived in rewards for the immortal soul.
18.1.5. The doctrine of the Essens is this: That all things are best ascribed to God. They teach the immortality of souls, and esteem that the rewards of righteousness are to be earnestly striven for....