The set up Christianity was founded by Jesus, who saw Himself as God's son. Jesus was a powerful figure who amazed people, gathered disciples, taught, did miracles, and was killed by the Romans, after which he appeared to his followers then ascended to Heaven.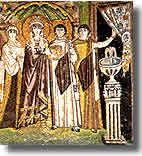 The story After Jesus' death, the history of his life and message was kept alive by the "apostles," who were mostly people who knew Him personally—disciples, guys like that. Paul, who never met Jesus, was also an apostle. Why? 'Cause he said so, that's why.
By and by some of the apostles who knew him, Matthew, Mark, Luke and John, wrote books, "gospels," that are histories of Jesus' life and resurrection. Luke stretched out his gospel with Acts of the Apostles, which includes the history of the early church. Paul and other apostles wrote letters.
"In Paul's copious writings, so fervently focused on the redemptive death of Jesus Christ, there is no mention of the [passion] saga we all know so well: the triumphal entry on an ass, the crown of thorns, the confrontation with Pilate. If Paul, writing only a decade or two after the crucifixion, knew about such theologically potent details as Jesus' prayer in Gethsemane or his dying words on the cross – "Father, into your hands I commend my spirit" – how could he not have expounded on them? The answer that comes to mind is the same one that comes to mind for the virgin birth story: he didn't know the features of the passion story because they hadn't been invented yet."[Russell Shorto, Gospel Truth, 1997, 170]