Plutarch, who knew his way around a scroll with a reed pen, didn't have words to say how very very nice the worship of Isis was, so he settled for some hi-tone superlatives--"pure", "shining through the soul", like that. >>
Lucky us, Plutarch didn't stop there. He went on to explain that the theology of Isis worship was mystic union with the immaterial, eternal "Reason." The Greek word was "Logos." -- the same word, and the same idea of an eternal divine being you'll find in our Gospel of John. "In the beginning was the word [logos], ... and the word [logos] was God."
The Isis-priests' God wasn't a magical godgal (at least She wasn't only that), She was this eternal, immaterial, simple, shining, pure, spirit thing. The kind of transcendent God-thing I don't have words for, and I bet you don't either.
According to Plutarch, who knew 'cause he was there, the worship of Isis and Osiris wasn't about magic fables, it was about mystic union of the striving human soul with eternal, transcendent God. >>
In-fucking-credible.

But the apperception of the conceptual, the pure, and the simple, shining through the soul like a flash of lightning, affords an opportunity to touch and see it but once. For this reason Plato and Aristotle call this part of philosophy the epoptic or mystic part, inasmuch as those who have passed beyond these conjectural and confused matters of all sorts by means of Reason [= Logos] proceed by leaps and bounds to that primary, simple, and immaterial principle ; and when they have somehow attained contact with the pure truth abiding about it, they think that they have the whole of philosophy completely, as it were, within their grasp.
While we are alive
... says Plutarch, we strive for union with God.

.... this god Osiris .... is far removed from the earth, uncontaminated and unpolluted and pure from all matter that is subject to destruction and death ; but for the souls of men here, which are compassed about by bodies and emotions, there is no association with this god except in so far as they may attain to a dim vision of his presence by means of the apperception which philosophy affords
After we die says Plutarch
our souls leave our bodies and travel to be with God, >>

where.
...your soul will spend eternity contemplating the unutterable, indescribable niceness of God. >>
Sound familiar? I thought so.
But when these souls are set free and migrate into the realm of the invisible and the unseen, the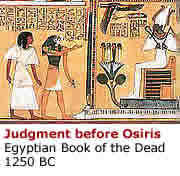 dispassionate and the pure, then this god becomes their leader and king, since it is on him that they are bound to be dependent in their insatiate contemplation and yearning for that beauty which is for men unutterable and indescribable. With this beauty Isis, as the ancient story declares, is for ever enamored and pursues it and consorts with it and fills our earth here with all things fair and good that partake of generation.