Here's how Doctor of Divinity A. D. Nock puts it in the believers' canonical "refutation" of Christian- Pagan syncretism >>
"Much" of what we know about the Pagan mystery religions dates from the third or forth centuries, asserts Dr. Nock expansively, pointing a finger and slurring his speech ever so little, and by then Paganism was "probably" assimilating Christian ideas.
Dr. Nock apparently doesn't need much—any—analysis to see Pagan borrowing. Borrowing is conceivable; therefore borrowing is "probable" and "obvious." QED. Who's ready for lunch?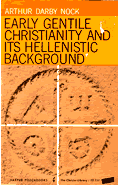 Much of what we know of the mysteries relates to the third and fourth centuries, and at that time some of them were probably assimilated of set purpose to Christianity in the hope of countering its attractions ; this assimilation is very obvious as part of Julian's reactionary movement in the years 362 and 363 ; but it seems to have been practiced earlier by Maximinus Daia and possibly also by Galerius.
But right away Doctor of Divinity Nock lets on that his standard for accepting Christian borrowing is just a teensy bit different. I use "teensy" here in its inter-galactic astronomical sense.
For Christian borrowing we must
| | |
| --- | --- |
| | Use the greatest caution |
| | Demand precisely what character each belief had in the Pagan and Christian camps, to be sure they are really really really really really similar |
| | Be sure that the borrowed ideas were present in exactly the right time and exactly the right city—and that in exactly that time and place they had exactly the right character. |
| | Be sure that in exactly the right city at exactly the right time the ideas of exactly the right character were believed in with enough "intensity" (why that matters and how it's measured Doctor of Divinity Nock doesn't say). |
And, says Doctor of Divinity Nock, it is impossible to know all those things!! >>
So, according to Doctor of Divinity Nock himself, his criteria make it impossible to discover Christian borrowing from Paganism.
The greatest caution must therefore be exercised in determining what was the precise character of any particular mystery which might be supposed to have influenced [pg 59] Christianity in the first century ; we need in effect to know its character at the point of contact, since it is unsafe to assume that there would be complete uniformity in any such cult wherever practiced (we know that later this was certainly not so with Mithraism, which varied in details from East to West). Further, we require some means of estimating not merely in what cities a particular mystery was observed, but what the local intensity was, whether it was for instance impossible for any man in those parts to be unaware of its more characteristic features, or at any rate of its existence. To all these questions there cannot be complete and satisfactory answers
[Nock, Arthur Darby. Early Gentile Christianity and Its Hellenistic Background ((1928 / 1964)), pg. 58- 9]
.