Here's where we are. We're discussing scholarship about Christian origins. On this page I'm going to show you how to re-think current apologetic "scholarship" not as evidence driven scholarship, but as myth. Modern myth.
The Scholarship Myth
Here at POCM, "myths" are the stories people tell when they start with the answer and fill in "facts" to match what they know to be true. Away back in bible times Paul and Mark, Matthew, Luke, and John understood what a God was, and they thought Jesus was one. So when they told stories about Him, they naturally included the God properties He must have had. Divine father, mortal mother. Prophecies, powers. Reads minds. Lives in the sky. Like that. It happened in that order. First people thought Jesus was another God, then they told stories about His God properties.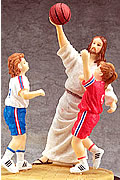 Modern Christians do the same. They start off knowing Jesus is real, and then they tell stories about Him. As they tell their stories, they invent facts that make the stories come out they way they know they must: Jesus is real.
Modern myths can be hard to spot, because modern believers fill in their Jesus stories with "facts" that line up with modern ideas we ourselves believe. Let me show you what I mean. Two modern ideas Christians nowadays use to fill in their Jesus stories are scholarship and science.