Alexander sang hymns, prayed, and asked for Gods' heavenly blessing. >>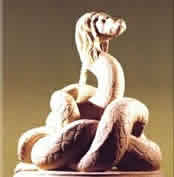 And brought out...a baby snake...
Which the crowd welcomed as an Earthly form of the God. >>
[Chapter 14] Then he [Alexander] ran at full speed to the future temple, went to the excavation and the previously improvised fountain - head of the oracle, entered the water, sang hymns in honor of Asclepius and Apollo at the top of his voice, and besought the god, under the blessing of Heaven, to come to the city. Then he asked for a libation saucer, and when somebody handed him one, deftly slipped it underneath and brought up, along with water and mud, that egg in which he had immured the god; the joint about the plug had been closed with wax and white lead. Taking it in his hands, he asserted that at that moment he held Asclepius! They gazed unwaveringly to see what in the world was going to happen; indeed, they had already marveled at the discovery of the egg in the water. But when he broke it and received the tiny snake into his hollowed hand, and the crowd saw it moving and twisting about his fingers, they at once raised a shout, welcomed the god, congratulated their city, and began each of them to sate himself greedily with prayers, craving treasures, riches, health, and every other blessing from Him....And the whole population followed, all full of religious fervor and crazed with expectations.